e-Martial Arts Ltd
Distribution system for quality martial art materials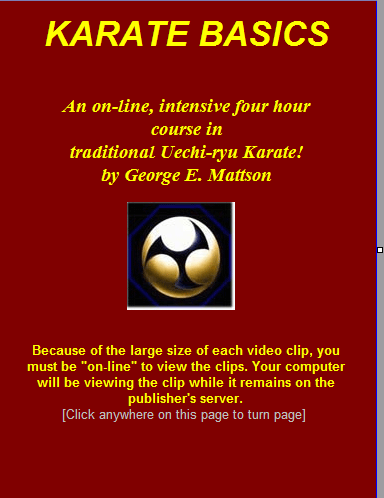 Learn New and Different Martial Arts Skills at Home - Supplement your Dojo Practice!
The George E. Mattson Basic Uechi-ryu Course:

An intensive four book course. Each book covers one hour of lessons. Share the experience with a 30 year Shorin-ryu veteran, who is learning Uechi-ryu basics for the first time - the best possible way for you to benefit from the instruction.
Table of contents:
Private Lessons Book (Volumes 1 through 4)
Returning to the study of karate after a substantial leave of absence can be a frustrating experience. For the karate practitioner, getting "back in shape" is more than simply disciplining oneself to eat right and exercise regularly at a local gym. Karate is an intricate art that requires all the facets of one's body and mind to work in precise harmony if positive results are to be achieved.

Therefore, training should always be conducted under the supervision of a qualified teacher. Practicing karate movements incorrectly will not only prove unrewarding, but can be injurious as well. Along with qualified instruction, it is useful to incorporate secondary learning methods such as books and audio/visual aides. Acquiring such materials, however, can sometimes be difficult and costly. That is why I use George Mattson's Private Lessons Book (volumes 1 through 4). Unlike conventional books that leave the interpretation of its words and illustrations to the reader, Hanshi Mattson's Private Lessons Books combine expert instruction with the use of text and audio/visual aides that both explain and illustrate the concepts being taught on each page.

This amounts to a less subjective interpretation on the part of the student, which in turn reduces the chance of having an unrewarding or injurious workout. What's more, the books are easy to install, effortless to use and less expensive than the cost of compiling individual materials from various sources – if you can find them! I highly recommend George Mattson's Private Lessons Book (Volumes 1 through 4) to new students of Uechi-ryu Karate and to old students alike.

Steven Nicholas, Ph.D.
Professional Educator/Uechi-ryu Black Belt
When you are ready to order the complete lesson one
Click Here!
When you are ready for lesson two,
Click Here!
Lesson ThreeWhen you are ready for the third book!
Click Here! Special Gift for completing all 3 books. (4th book free)
Lesson Four When you are ready for the last book!
Click Here!
============================================================
New!!! David W. Smith's English Translation of Grand Master Kanei Uechi's Kyhon! Yes, this is the work you have been waiting for. Order your English translated (text only) Karate Kyhon. A companion book for those who have or may not have the Original Kyhon! PDF format - Can be viewed on both Windows and Mac computers.
============================================================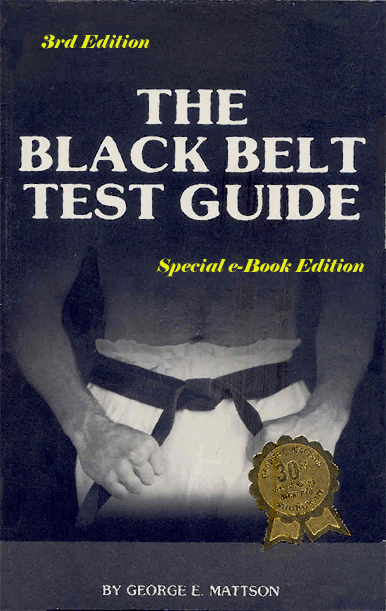 All New!!! 3rd Edition of the Black Belt Test Guide. Completely new, with many video clips detailing the standards needed to pass the traditional Uechi-ryu Karate black belt test. This e-Book is a result of many years work and research into the subject of standards and requirements, with training videos to back up each of the test segments. Click Here for detailed information and link to order. Or.... you may order right now HERE.
=============================================================