So far I see a dearth of photos. What's up with sports photographers these days? They don't seem to want to take and print a lot of photos.
However this photo is key.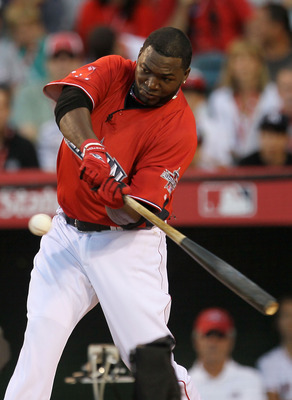 The actual batting motion is somewhat complex and more like a body wave. But it can arbitrarily be broken down into lower and upper body components. What you see in this photo is Ortiz frozen in time milliseconds before the bat meets the ball. The navel (and subsequently pelvis) has rotated 90 degrees from facing the opposite batter's box to facing the pitcher. The upper body lags, which causes a torsion spring to be wound in the body. The combination of trunk/arm elasticity, dynamic stretch reflex, and carrying of "the wave" from lower to upper body is bringing the bat around.
Because Ortiz has taken his fireplug-like body and violently stepped forward and rotated into the ball, he has almost all the power he needs to hit the homer. Since his arms don't have to do the work, they can now concentrate on guiding the bat towards the ball. This is key.
You cannot use the upper body for both power AND placement.
In this case, the upper body is being used to channel the power generated below. At best, it adds a bit to the wave with the arm movement and subsequent wrist snapping.
Unless this is a knuckleball, the ball will have spin and consequently "lift" in a predetermined direction. Being able to read the spin and follow the movement gives the batter the information he needs to guide the bat in the right place at the right time. This gives the perfect-angled collision needed to send the ball off at that perfect angle.
- Bill