Difficult for teeth to obtain flesh on these big puppies as well defended by fur. Very aggressive and the breed difficult to train as they are intelligent and bred to kill. Work very well in packs and surprisingly agile for a beast that is in the 180 pound range (known to have reached 250 plus pounds)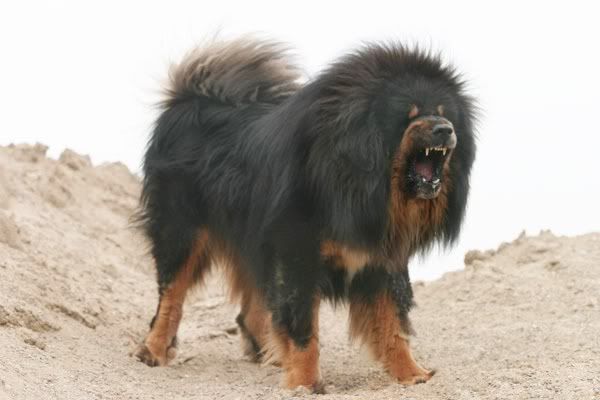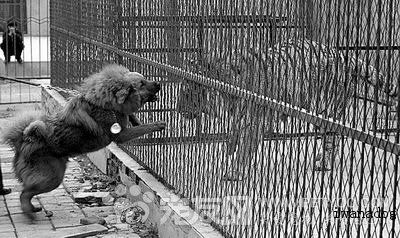 The Tibetan Mastiff also known as Do-khyi (variously translated as "home guard", "door guard", "dog which may be tied", "dog which may be kept"), reflects its use as a guardian of herds, tents and palaces. They were let free to roam at night in packs and woe to any strangers they come across at night.
They can challenge Leopards, wolves or even have been reported to take down tigers when working in pairs.
All legitimate approach to tent or encampment is based, however, on the assumption or hope that eventually friends or some one will come to the rescue and stand off the dogs: thus pennitting final arrival at the tent door. Once welcomed and accepted as guest the stranger must stay warily within the tent - on rare occasions even there he may be in danger of a sneak attack - and he can only move outside when he is escorted and protected by the owners of the dogs. When they escort him they too must change as he moves around the encampment for the dogs of each tent only recognize the members of their own tent family; barely tolerating-even next door neighbors who must exercise caution in approaching the neighboring tent.
At night the encampment is given over to the dogs who redouble their vigilance and ring the tents with sound and fury, which dies down at times to querulous bickering only to break out into a roar of suspicion at any unusual sound or sign of movement, as they rush from place to place. The men who have their sleeping places on the perimeter of the encampment sustain an oddly symbiotic relationship with the dogs in the maintenance of this vigil: their occasional shouts, and once in a while a shot into the air, stimulate the dogs, and the dogs in turn keep the men in an uneasy state of half wakefulness. Thus together they build a defense -sensitive as a burglar alarm which moreover has teeth - against thieving and surprise attack.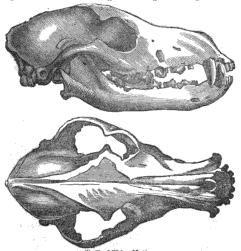 Note the skull
it is one of the few primitive dog breeds that retains a single oestrus per year instead of two, even at much lower altitudes and in much more temperate climates than its native climate. This characteristic is also found in wild canids such as the wolf. Since its oestrus usually takes place during late fall, most Tibetan Mastiff puppies are born between December and January.