CANDANeh wrote:
No one taking Bill`s bait

I'm losing my touch, Leo!

CANDANeh wrote:
When I watched the unfortunate event one of the first things I thought about was: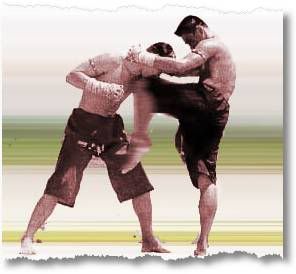 This is as close to the image in my mind. Knee to the head is one thing BUT add the guiding of the head (attacker in initial stage of shooting) with the forearm with the momentum of your forward movement and crank/twist to the head...simply evil.
You're getting the idea. It wasn't my immediate application thought, but that works as well. Principles are principles, and can be manifested many ways.
It's one thing to get knocked out. I can teach you how to do that if you're a big mofo. But for the average person, maybe not so much without a lot of training.
But to break a neck? Ahh... That takes strength, right? Or maybe... Just maybe we need to understand Newton's laws at an intuitive level.
First law: Every body remains in a state of constant velocity unless acted upon by an external unbalanced force. This means that in the absence of a non-zero net force, the center of mass of a body either remains at rest, or moves at a constant velocity.

Second law: A body of mass m subject to a net force F undergoes an acceleration a that has the same direction as the force and a magnitude that is directly proportional to the force and inversely proportional to the mass, i.e., F = ma. Alternatively, the total force applied on a body is equal to the time derivative of linear momentum of the body.

Third law: The mutual forces of action and reaction between two bodies are equal, opposite and collinear. This means that whenever a first body exerts a force F on a second body, the second body exerts a force −F on the first body. F and −F are equal in magnitude and opposite in direction. This law is sometimes referred to as the action-reaction law, with F called the "action" and −F the "reaction". The action and the reaction are simultaneous.
Well alrighty then...
We have a bigger mass, and a smaller mass, and a thingie connecting the two of them. How do I use Newton's laws to break a neck like a pencil?
Don't think it's even theoretically possible? Look again. Focus in on 0:45 - 0:50.
http://www.youtube.com/watch?v=mx2AxYxgqRA
Then you need to think out of the box - applying the same principles as articulated in Newton's laws. Oh and just to infuriate the heck out of the rookies, it actually
is
in Sanchin. But to use three words that strike fear in the hearts of dads every Christmas Eve,
some assembly required.

I generally don't teach these kinds of things online. But I readily discuss them in class.
- Bill
Source for Newton's laws: Wikipedia