Jason Rees wrote:
My right hip goes 'clunk' every time I do a situp. Needless to say, it's not my favorite part of the PT test.
It also 'goes out' every once in a while, and I have to do point my foot, turning my whole leg to the outside, to get it to 'click,' before I can walk without pain. Last week I tried that maneuver and it didn't work.

The rest of the night was spent in misery.
This injury is not uncommon in martial arts. I have a bit of a balky hip myself, and consulted two experts in the field (
Dan Kulund, MD
, and Steven King, DC) about it. I think I have a few tips that may help.
First... The problem is with your hip flexor. The hip flexor is a series of three muscles: the
Rectus Femoris
,
Psoas Major
, and
Illiacus
.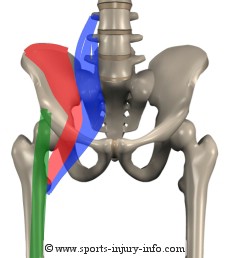 These muscles work together to lift your leg, or pull your knee to your chest. They are the primary muscle set worked in leg lifts, and are worked along with the abdominals when you do sit-ups.
If only you could turn back the clock... but you can't. So you go forward from here the best you can.
I'm willing to bet you have a soft-tissue injury that's causing the binding and clicking. If you look at the muscles and how they cross over various structures, you can see how things can go bad when you have an injury and then scar tissue. It can cause binding and "crunching."
The best way to deal with this injury is to work on flexibility and strength of both the hip flexors and your glutes. Both must be strong AND flexible. Generally an injury situation must address both agonist and antagonist.
Dealing with the hip flexor... I highly recommend you do the following stretch via PNF (proprioceptive neuromuscular facilitation). I mentioned that style of stretching above. If you're not familiar and want me to start another thread on it, I will.
Here is the stretch you want to do. I chose a few pictures so you'll get the idea.
Interestingly enough, I got both of those pictures (serendipitously) off of martial arts websites. Go figure... It must be a common injury for martial artists.
What you want to do - AFTER YOU ARE REASONABLY WARMED UP - is to get into the stretch position and then perform an isometric exercise of your hip flexor muscle being stretched. (That is the essence of PNF stretching) In other words, assume the position and then try to kick your back leg through the floor as strongly as you can for a count of 7 to 10 seconds. Relax and hold it for a bit, and then switch to the other side.
Be sure to do the same for the antagonists or the glutes. You do that by laying down on the floor and pulling your knee to your chest - one at a time. Of course the PNF part is trying to push your leg down while you're locking it in position with your arms.
Here's a more advanced stretch of the hip flexor. This is a bit of neurophysiology trickery. Some time I'll explain how and why this works. Go all the way to the bottom of the article for the hip flexor version of this exercise principle.
Zig-Zag-Zig": A quick way to relieve a tight muscle -- and KEEP it that way!
You can substitute other glute/back exercises - like walking lunges - for the one shown. But that particular exercise tends to emphasize the lower back more than the glutes.
- Bill