I don't think anything compares to soccer as far as leg conditioning. And there is much to be learned on the field.
Well written and it evokes great memories of my field battles, as a striker, against the full backs determined to take you out.
The legs get conditioned by the constant 'banging' and slider tackles, as well as by the fast twitching of the muscles and the loading and whipping deliveries while in precarious balance.
It is in soccer that you first learn of the 'dead leg' causation to you or your opponent, which is a severe contusion of the muscles of the leg from an impact injury which causes muscular damage as it is crushed against the underlying bone.
Add to that the kind of leg conditioning the daily 'stick tapping' and kitae, and we begin to understand how vulnerable the legs of even big strong adversaries are, with no such training/conditioning.
All gross motor moves that do not fail, unless you are not conditioned for the banging.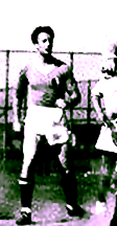 Your training program is excellent five D.