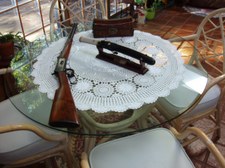 This rifle you see on the table is a 'pre-64' rare Winchester 94 lever action in 30-30 caliber...of Winchester factory, New Haven Ct, original manufacture...no longer made.
A true collector item, worth many thousands of dollars.
When my friend Bill, was selling his gun collection years back...he held on to this rifle as his prized pet rifle.
I told him then that when he wanted to get rid of it some day down the line, I would pay him whatever he wanted.
So one day he calls me asking to meet him and get the rifle...when I reached into my pockets he said..."Van, you can't buy this rifle, but you can have it ...and you'll make me very happy if you accept it as a gift"