Quote:
Jay – No, not yet. Joey bought an MP-5. I have not seen it yet or shot it. But we plan on meeting up soon and do some serous tactical shooting. Joey is going to coach me. I have fire arm qualifications coming up soon.
You and Joey live up the good life, smile. Will his coaching be along 'sniper' training? As you well know he is a police sniper and a damn good one.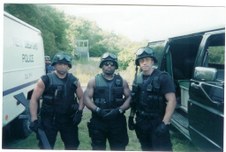 Quote:
Jay – Please tell Gary I said hello. Gary is a true hero. I have the upper most respect for him. He enlisted and joined Airborne at age 40. That alone at age 40, is a fantastic accomplishment. He is a combat vet and a true hero.
Will do, Jay. Indeed he is a true hero. During basic and advanced infantry training he was heads and shoulders over guys half his age [he was named 'soldier of the cycle' ….he also was the president of the officer training class…
….was awarded 'Brown Beret' in the 82nd Airborne before shipping out to Iraq as an Infantry captain, leading a crack Infantry unit into combat….
He originally signed up and was accepted for Special Forces training, but an unfortunate shoulder injury [from a heavy chute landing ….full combat gear…in the dead of the night] requiring surgery….made him ineligible for the Special Forces program.
A very good man and stellar friend as well.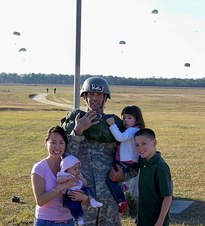 Quote:
Jay – Already done!!! I am glad to help in any way I can Sensei. I have secured two large round tables as we spoke about. I have already spoken to Joey and his wife Anna and they are very honored to be sitting with you. I have emailed the info to Gary and waiting to hear back from him. However, the seating arraignments are all set. I will have place settings and name tags at your table.
You are the best, Jay….a true friend, a true Marine, always faithful, accommodating and protective of your true friends.
God bless,