Interesting video, Van.
Van Canna wrote:

Any views on the so called 21 foot rule?
It's my understanding that the origin of "the 21 foot rule" is
The Tueller Drill
.
Wikipedia wrote:
Sergeant Dennis Tueller, of the Salt Lake City, Utah Police Department wondered how quickly an attacker with a knife could cover 21 feet (6.4 m). So he timed volunteers as they raced to stab the target. He determined that it could be done in 1.5 seconds. These results were first published as an article in SWAT magazine in 1983 and in a police training video by the same title, "How Close is Too Close?"[1]

A defender with a gun has a dilemma. If he shoots too early, he risks being charged with murder. If he waits until the attacker is definitely within striking range so there is no question about motives, he risks injury and even death. The Tueller experiments quantified a "danger zone" where an attacker presented a clear threat.[2]

***

1. Tueller, Dennis (March 1983), "How Close is Too Close?", S.W.A.T. Magazine
2. Ayoob, Massad (October 1991), "Explaining the deadly force decision: the opportunity factor", Shooting Industry
So Sargent Tueller's drill is used - right or wrong - as gospel for those trying to dichtomize the shoot/no-shoot distance. The "21 foot rule" becomes a human construct superimposed on a non-dichotomous scenario, and justified with what little information was out there in the LEO literature. The actual reality is it's better used as a "rule of thumb."
When it comes to defending the perp who got shot, we all know that possession of a lawyer is nine-tenths of the law. His lawyer will use whatever he can to attack the LEO. The Tueller Drill then becomes a double-edged sword in the courtroom.
Van Canna wrote:

How would we handle such an attack?
Other than pisss our pants?

There but for the grace of God go I.
We've had this discussion before, Van. In a firearms training class I was the only one who defeated the Tueller drill. And you tell me that Jimmy Malone did the same. Nothing is 100 percent. But getting off that charging bull line of force is your best bet for
buying more time
.
.....
Correct approach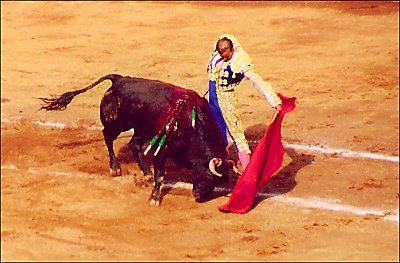 .....
Incorrect approach
Jason wrote:
If you brought a knife to a gunfight at the OK Coral, I'm pretty sure you're dead.
This is true. And it's also true that someone may still get cut. And that'll ruin your day.
There's nothing more dangerous than a suicidal attacker. Can you say
loco
? This guy had no sense of self-preservation.
- Bill