Good post Sean and well said, I agree.
As to my cat ...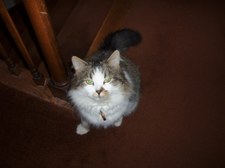 He is a beautiful feline and very intelligent and loving.
I adopted him from a foster home where I learned that he had been abused so bad [some bastard kicked him so hard driving his testicles into his belly] that he was recovering from surgery.
The foster mother said this cat did not like men because of what he had suffered.
But when she put him on the bed and I sat close to him and began to stroke his chin and talk to him, he began to nuzzle me looking for more...so it was love at first sight.