Ian wrote:

It's not Merck's right to decide what information they have about their drug's potential (in this case, occasionally lethal) side effects that they will release to medical journals and to the public.
Oh yes it is. Ask ANY researcher in academia or industry what does or does not get released in the literaturer. Negative findings aren't sexy, so never make it to the literature. Findings that don't support your pet theory don't make it to the literature, nor are they likely to make it past the peer-review process if you try to submit such a publication.
Do you publish, Ian? If you did, you would know that.
A researcher in academia or industry has every right not to release information - particularly and especially if it is inconclusive.
It wasn't the study you cite that turned the corner, Ian. It was the Approve study. Only after the fact - with 20/20 hindsight - did the release of old information that was consistent with that study make sense.
Let's put this in context, Ian. Why didn't the makers of Celebrex report the same findings? (Hint: the evidence wasn't yet there.) Why didn't the makers of Bextra do the same? (Hint: the evidence wasn't yet there.) Naproxen has been around for 3 decades. Why are we finding out JUST NOW that this medication similarly causes the same increase in risk?
And what about ibuprofen, for Christ's sake? Do you know how many premenstral women, aging athletes, and generally aching people have put themselves at risk of side effects that we're just now finding out about?
Should we ban the use of knives in the kitchen? Should we ban aspirin? Should we sue the makers? Both of these have caused orders of magnitude more deaths WHEN USED AS DIRECTED. We didn't even know how aspirin worked until recently, much less what all the dangerous side effects are.
Ian wrote:

You want to dispute this? You can overrule the New England Journal of Medicine then. They're convinced.
After the fact. With 20/20 hindsight. Meanwhile, talk to the review board of NEJM about what articles they do and don't allow to get published, and what they demand of people who do publish.
Talk to them about how naproxen was out there for decades without them getting information that showed the exact same side effects. Where were the people in the ivory towers for those 3 decades? Where was NIH when it came time to award grants-in-aid?
Ian wrote:

"This is a patently false assertion [that drug compnies are out to make money], Ian."
No, Ian. DO NOT DO WHAT YOU JUST DID! Literally putting words in my mouth that I did not type (nor did I imply) is just plain wrong.
This is the record.
Bill Glasheen wrote:
Ian wrote:

Drug companies are out to make money, not necessarily "do the right thing." Frequently when they do the right thing it's to make money, anyway. They don't sit down thinking about what drug might be the most useful for society, but rather which might make more money.
This is a patently false assertion, Ian.
Making the customer happy is good business. Please read a basic book on six sigma. Refer to the chapters entitled "voice of the customer." As they say, quality drives cost. And cost drives profit.
Your a smart guy (understatement of the year), so I can't take you as being unintelligent. Maybe you were careless, or uninformed on the subject. Please read a book on six sigma so you'll get on board with my argument.
Ian wrote:

Here's where we differ: you look at processes from a distance, I meet 8-18 patients every day. A drug company cannot decide, or have you decide, that a drug did net more good than harm, and then conceal some of those harms from the public.
Here's where our arguments differ.
I am asserting that NOBODY knew these risks for certain until the Approve study was published. I am asserting that the same risks existed for other painkillers on the market far longer (and via the exact same biochemical mechanisms) and nobody caught it. Suddenly Merck is the bad guy - because the pockets are deep, the drug is new, the news was sexy, and somebody who files suits seeking class action status for a living started cranking them out.
Ian wrote:

This is because my patients have a right to informed consent, not a statistical analysis on whether merck caused more good than harm. These are people, not numbers. That's why we can't sacrifice a person in a vegetative state to save 10 people with organ transplants.
And here is where I believe I have a right to "lecture" you, Ian.
You have no business giving patients a new drug without warning them that it is new and so little data exists to understand all the many side effects and risks. My spouse does this as a matter of course, Ian. She refuses to give out the free samples to her new patients when something which likely will get the job done is available at a fraction of the long-term cost.
It is your responsibility to understand this big picture, Dr. Ian. You've been around long enough to see how many new drugs come on to and off of the market. And with more and more drugs "out there", there is a greater and greater chance of drug-drug interaction. The chance of that goes up exponentially with each new drug that enters the the pool of medications that make it into the pool of available therapies. Please don't shirk this responsibility, or pretend you can for the sake of this argument when I know you and know you wouldn't.
FWIW, we're working on more and more software to help you out in this matter...

(No sales were made in the making of this claim.

)
Ian wrote:
Bill wrote:

You just contradicted yourself, Ian.
No, I didn't.
Yes you did.
You claimed
Ian wrote:

heart attacks are more of a medical or molecular problem than a mechanical problem.
Then you wrote
Ian wrote:

Vioxx killed a percentage of patients, including some with, you guessed it, preexisting coronary artery disease.
There's your mechanical problem. And you can't get the platelets to stick without it. Heart attacks start with the mechanic problems (the stenosis, caused by the buildup of plaque).
And you can hardly compare someone FALSELY yelling "Fire!" in a movie theater causing a heart attack in someone ready for the event to a patient taking Vioxx.
Here's the proper comparison. There is really and truly a fire in the theater. So you you yell "Fire!" You save some lives, but some poor man with a critical stenosis dies from the fright. Does the family have a right to sue? EVERYONE has a right to sue, but nobody's going to convict.
Patients took (and still take) COX II inhibitors to relieve pain and reduce the risk of bleeding. That's a known side effect of NSAIDs, and it does indeed kill people. But in a population of people who avoided bleeding events, some got sticky platelets which found a critical stenosis.
THERE IS NO FREE LUNCH! THERE ARE NO DRUGS WITHOUT SIDE EFFECTS OR RISKS.
And yes, we don't know all the risks, nor do we necessarily understand them when they first start rearing their ugly heads.
It was a long time after men started dropping like flies in San Francisco bath houses in the latter 1970s before we understood what the heck was going on. And it had been going on for decades!
Ian wrote:

So what you're saying is these disputes should be settled in front of a jury? I'm sure Gene is thrilled.
I'm saying "Fair is fair." 14,200 lawsuits for an unjust cause? Let's start the class action lawsuits against these ambulance chasers. Our retirement accounts are being raided. Let's get restitution!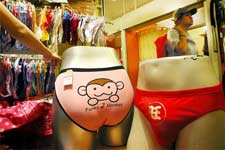 Ian wrote:

Here's what the NEJM thinks about COX-2's and heart attack:
Dated March, 2005.
You argue best when you argue my point.

- Bill