Shana Moore wrote:

In particular, we were discussing the shoulders, lats, and core positions. I've always been told and believe that much of this stance's locking down of the lats and core is to create that "iron shirt" of muscle as well as wind up/connect/root for power and delivery. It came as a kind of "duh huh" moment when my teacher stated that this could also create a tension so that a broken collarbone would pop out instead of down into a tender, vunerable lung. hmmmm....
Later on, Shana, you'll learn something more about this position.
I spent the first 2.5 decades with everything statically locked down. Then when working with certain circles of Uechi practitioners (a VERY select and IMO enlightened few), I began to learn that what in the beginning is static over time can be thought to be dynamic.
The principle of Sequential Summation of Movement is throughout sports. And if we get out of the Sanchin straitjacket, we learn that what is static could be dynamic. For instance... I tell people that Uechi Kanei could be immovable in his Sanchin stance. However, a granite statue of Uechi in Sanchin could be pushed over by a child. How could that be???

That pull-down can be the crack on the end of a body whip. Pitchers do something similar when they throw a ball. Batters do something similar when they swing a bat. The advanced Uechi practitioner does an isometric crunch/tuck which is a key element both to cracking the arm whip and to breaking through bone when contacting a target.
In other words... the concept of energy and rooting which you talked about can evolve over time. And it isn't rocket science. Every good athlete does it. We in Uechi Ryu just do it smaller. To reinforce the point in my brain... Every year after the home run competition the day before the All Star game, I pore over frame-by-frame photos of the winner of this contest. Invariably there is a common thread in the mechanics of the winning batter from year to year. When you think about it, a home run is a combination of both power and precision. And that precision is both spacial and temporal. That is a difficult thing to do - and yet the winner is able to do it swing after swing after swing. It is a thing of beauty.
If you see your Sanchin thrust in a home run swing - only smaller - then you see what only a small fraction of a percent of practicing martial artists understand and actually execute.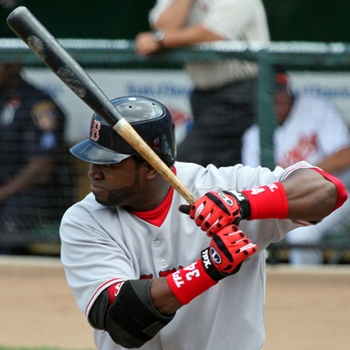 But... if you've been hit by someone who understands this, you'll know it!

- Bill