Dana posted these nifty little dumbbells on a thread in Bil's forum:
http://www.shureidousa.com/training/san ... bells.html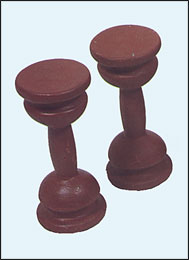 This was a possible alternative to more fragile pottery urns, but Dana commented that it didn't allow for incremental weight increases. I was wondering if there were detachable weighted rings that could be added?
That aside, I was wondering what objects/toys/training tools you use to train?
This could be as simple as a towel or rope wrapped wooden clothesline pole or tree to the infamous BOB. It would also include things like the clubbells that were discussed in a prior thread a few months back.
My current favourites are the aforementioned clothesline pole (and deck posts), and a bucket of beans that I use to condition fingertips and grip.
Please share your discoveries and nifty tools!