Fond memories Art, Thanks.
True, some of those tournaments got to be a real drag for me with the ridiculous rules format that went against the grain of Uechi Ryu's training concepts.
The one standing-most ridiculous- uppermost- in mind - was a match, lasting 30 minutes, I had with one of Henry Cho's TKD fighter at the All American in New York. In the picture here you see me in the foreground with my opponent behind me with his arms crossed after it was over.
I kept catching his kicks, spinning him around, taking him down and either punching him or chopping him as he landed. All to no avail as the ref would not award me any points because of TKD rules. He was a good fighter but the match went scoreless for 30 minutes even after the officials changed the referee twice. Very frustrating rules.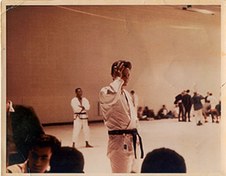 I found it a bore having to fight rules instead of an opponent.
But some tournaments were good, like the one we had against that out of state challenging team...good solid fighters and more liberal rules of engagement.
That top ten fighter was very strong and skilled...I think he was a student of Ed Daniels, the King Kong of Karate.
I knew that to have a chance against him I'd have to attack with speed before he got a chance to get set and get off any technique.