This reminds me of the famous 'Sicilian Vespers'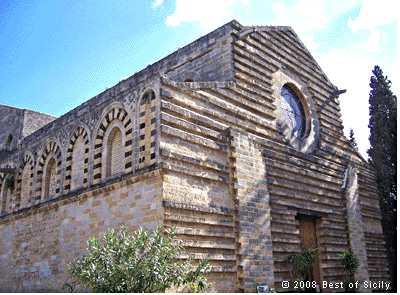 http://www.youtube.com/watch?v=UqP6dc_R ... re=related
The Church of the Holy Spirit, once set in a park outside the city walls, still stands… (the church is now also called Chiesa dei Vespri). In the Catholic Church, the evening ritual is known as Vespers (a series of chants, litanies and prayers held each evening and especially popular for the Easter Vigil).
On March 30, 1282, Easter Monday, a large crowd of Sicilians where gathered outside a church near Palermo awaiting Vespers. A group of French officials joined them, despite the cold reception by the crowd. Some of the Frenchmen began approaching the Sicilian women, and when a French sergeant took a married woman away from the crowd, her husband stabbed him to death.
The French rushed to avenge their comrade and where attacked and killed by the crowd. As the church bells throughout the city rang for Vespers, messengers ran throughout Palermo calling for an uprising.
The Sicilians slaughtered the French and Sicilian women who had married Frenchmen, invading houses, inns, convents, and monasteries.
The frenzied populace killed Frenchmen wherever they found them. Even monasteries were not exempt from their fury. French monks and nuns were killed.
There seems to have been at least one case of a Sicilian woman pregnant by her French husband being cut open based on the idea that her unborn child was French.
In a largely multicultural society, it was necessary to identify the French, so the revolutionaries devised a simple linguistic test: pronounce the word "ciciri"
The Sicilian for chickpeas (ciceri, riciri cicirri) is a difficult word to pronounce correctly if one is French. It is said that Sicilians held up a chickpea and asked those suspected of being French to tell them what it was. Those who were able to pronounce the word correctly were spared and those who mispronounced the word were unmistakably French and slaughtered.