Congratulations to Jim Hulse for his Hachidan [8th Dan] promotion yesterday at Fedele's dojo.
The massive, but very agile, Jim Hulse was also awarded a Shihan diploma for his exceptional skills in targeting nerve points which are all in the line of force and direction of Uechi kata movements.
Watching him demonstrate this natural Uechi targeting is indeed an education_ as he either knocked out or disabled the 'fight' in the 'adversary' during attacks upon him, using nothing more than Uechi strikes or 'blocks' _
Seisan Bunkai and Dan kumite also produced a number of KO's_ as the more experienced of his students stood by to 'resuscitate' the downed ukes.
There is a certain realism to his Kumite method and Bunkai applications, that it is almost impossible to describe unless one sees it or experiences it.
WOW_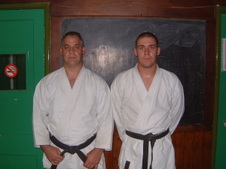 with his son Scott, on the right ...a paratrooper in the British Special forces and Iraq war veteran. He is now assigned to Military counter-piracy operations to protect naval ships.
Yesterday Scott was promoted to Renshi _6th Dan, after a superb performance. Congratulations.
http://www.uechiryu-karate.co.uk/mainpage.htm