For the last drill it helps to have some background in takedowns and destruction of structure.
Here is an article on disrupting balance and how to use the voids.
The Voids
What are the Voids
 Every stance will have voids.
What is a void?
• Void: An area where the person has no brace.
A brace is usually a leg when a person is standing, or any part of their body in contact with the ground when not standing.
If you press a person into a brace they can root and prevent you from moving them.
If you press them into a void they must move to recover their balance or fall into the void.
Why are there always voids when we are standing? Because we only have two legs therefore can only brace in two spots. I know that may sound simplistic but this simple fact is can be over looked by those wishing to be better rooted and those wishing to take a person off balance.
Every stance has a base. The base is the area between your braces. As long as you keep your centre over your base you are in a stable stance.
• Your goal is to maintain your centre over your base.
• Your goal is to move your opponent's centre off their base.
Moving their centre off their base will allow you to effect a disruption of their balance allowing you to take them down or create a moment where they are recovering their balance and therefore distracted while you strike. Of course the best strikes take place AS you disrupt their balance.
• For this purpose of disrupting your opponent's balance there are two types of voids.
Major Void: Major Voids are found in front of the braces and behind the braces. These are areas where the opponent cannot brace themselves unless they move their brace. Major Voids are the most easily accessed.
Minor Voids: Minor Voids are areas out passed a brace and off the base area. To make use of these voids you MUST move the opponent's centre off their base and out over a Minor Void. These are not as easily accessed as a Major Void because it requires that you move the opponent's centre first.
Training to Use the Voids
Part One: Identifying the Major and Minor Void Change Over Points
The first part of training voids is to learn how to recognize where the Major Voids are.
To do this you must first feel the difference and change over points from a Major Void to a Minor Void.
Have a part take a stance with one foot forward – As a Uechi Ryu practitioner I prefer Sanchin of course.
You simply start right in front and lightly tug on your partner pulling them. The person being tugged is not fighting back, but they are "in stance." They will NOT shift to prevent the pull.
Move around your partner inch by inch tugging and feeling them be pulled into the void.
Note the four points where the Major Void converts to a Minor Void and the simple tug will not pull them off stance.
Continue tugging to see just where the Minor Void now shifts back into a Major Void behind them.
To move a person into a Major Void only requires either a pull or a push that is not countered.
Part Two: Identifying the Voids from a Realistic Encounter Position
Now you have established the fine line where the Major Void shifts into a Minor Void by simply tugging on your partner.
The next step is to get a feel for where these changeovers are when you are in a more realistic position for an encounter.
Step up to your partner who will again take a stance (Sanchin). You assume a stance (Sanchin) and hook wrists with their arms.
I recommend hooking here simply because this is the preference of how I apply Uechi Ryu. Hooking with the Mantis hand allows you to quick disengage and strike where gripping in a grab requires you to release the grip before striking. Clearly your own approach to applications will dictate your own approach in this portion of the training.
The Mantis Hand: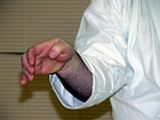 Your partner will again not do anything beyond maintaining their stance while you pull and push on them.
Work pressing on angles to see where they easily fall back into the Rear Major Void.
Work pulling on them to see where they easily fall forward into the Front Major Void.
As you work the angles take note of where it becomes more difficult and where the Major Void has shifted to a Minor Void and they no longer fall forward or backward.
One way to enhance this as a sensory drill is to turn out the lights so all of this is felt and not just working from visual queues.
Part Three: Converting a Major Void into a Minor Void
For this portion we take a step back to the original method of tugging on your partner.
To this point the training has been for the person trying to disrupt their partner's balance. This training can also be used to maintain your balance.
This time the person tugging will do so in a slow and steady manner.
This time we do not start in the front but rather at the side point where the Minor Void shifts to a Major Void.
As the person tugs the person being tugged will shift their knees until they are now resisting the tug. What they have done is altered their body position so the Minor Void has now moved encompass the angle they are being pulled from.
The person tugging will move over slightly and see how far they can move before thir partner can no longer convert the Major Void into a Minor Void WITHOUT moving their feet or twisting into far too vulnerable a position.
• From this you can then shift to the more realistic encounter position of being up close and personal and start the tugging and converting again.
Part Four: Moving a Person into the Minor Void
So now we know we would prefer to dump a person into the easier Major Void but that option may not be there or it may be closed off to us by a skilled opponent who knows how to shift and close off the Major Void by converting it to a Minor Void.
The next step in our training then is the principles behind moving a person into the Minor Void.
Moving a person into a Minor Void:
1. Raise their centre.
2. Move it over their brace and out over the minor void.
3. Pull or push to drop them into the Minor Void.
• This is described as a snake going over a log. Their centre is the snake and the log is their brace.
Once again we begin by shift back to a more cooperative partner and the tugging drill.
1. Standing at the Minor Void grab them by the arm right below the shoulder.
2. Lift up on the shoulder raising their centre.
3. Pull them off their bas by moving them OVER their brace.
4. Pull them into the Minor Void.
The next step is to move into that more realistic encounter position and try hooking under their arms to raise their base and move them into a Minor Void.
You will find that this is not an easy thing to do. But that is the next step in training.
Part Four: Two/three Points and Hitting the Circle/Sphere
Hitting the circle:
• If you have any two points of contact on an aggressor then you can hit the circle.
• Hitting the circle is done by applying a force on one angle with one point of contact, and applying a force on a complimentary angle with the other point of contact. (All force is applied by the entire body.)
• When you make two points of contact take note of which directions you have to move each to move in a circle.
1. Work from the realistic encounter position and place your hands to hook two points on your partner's body (under one elbow and in the crux of the other.)
2. Now moving the elbows draw a circle that either moves your partner into a Major Void or raises their centre and takes them out over a Minor Void.
3. Shift your grips and keep experimenting at how to hit the circle.
Caution: At some point someone will be moving NOT in a circle but both in the same direction. This may create a distance (and therefore a possible striking opportunity) but it will not normally disrupt their balance as we want.
Hitting the Sphere:
• This is basically the same except that thinking of circles tends to have you moving on a two dimensional path. By thinking of spheres you can hit along a three dimensional line that can add a spiral effect. This is even more effective in taking them off alignment.
As you work hitting the circle/sphere you will find that as you move your partner off their base is "opens" the Major Void. So while you may be doing a move to dump them in a Minor Void the move may open up another opportunity to dump them in a Major Void.
Part Five: Working on Two/Three Levels
Step One: The middle level too
When you begin working the circle sphere to access the voids you tend to work only with the arms and hands.
This means we are focusing on the upper level of the body.
The first step to expanding the levels is to begin to incorporate affecting the middle level.
This is done by pressing or pulling into the hip to collapse it backwards.
This is done by pressing or pulling into the small of the back.
Both of these are done AS you attack the upper level. So you are now working on hitting the sphere.
Step Two: The Lower level and the knees
The next step is to affect the lower level.
This is mainly done with your knees attacking their knees.
You can press in on their knees with yours or press out on their knees with yours.
This is done in conjunction with an attack on the upper or middle (or both) levels.
The other method to attack the lower levels is with your foot either hooking or stepping on their foot.
Again this is done in conjunction with an attack on the upper or middle (or the knees).
• All of this should be worked from the more realistic encounter position.
(More on knees in Destruction of Structure.)
Part Six: Up the resistance
For this portion the final step is to simply continue to up the resistance each partner gives until you are working this against a totally resistant partner.
Training to Use the Voids for Rooting
This is almost a method of anti-void usage.
As we have found in the other training the voids are a weakness in our stability.
Conversely, then the more we can use the brace at the Minor Void points to drive our power out of then the more rooted our power will be.
This has some very serious implications.
• You must know where your opponent's voids are to take advantage of them.
• You must know where your voids are so your opponent cannot take advantage of them.
• You must know where your voids are to drive from the Minor Void brace to enhance your power.
So you must know where your voids are so that you are striking out of a position of power.
Knowing where your voids are will also prevent you from applying inappropriate force. There are times during an encounter where you are being pulled off balance and the tendency is to fight back and apply force to resist it.
The problem is you have been pulled out of your old position and now you are applying force from a direction backed by a Major Void. The result is not only an ineffective defense but it often results in you putting yourself into the Major Void.
The Goals
 The goal is to always know where your voids are and your opponents voids are.
 The Goal is to know how to convert a Major Void into a Minor Void.
 The Goal is to know how to overcome your opponent's Minor Void resistance.
 The Goal is always open their voids and close yours.
 The Goal is to always strike out of a position braced into a Minor Void.
Using the Void to Strike Into
We have noted that for proper striking you want to strike rooted into a brace or the blue zone indicating a Minor Void. This grounds your strike.
When striking a person the goal is to strike into a Major Void or a red zone.
For those involved in body conditioning who have struck a well conditioned partner we know the effects of a strike can be nullified to some extent. The same is true of a person pumped up on the chemical cocktail.
When you strike a conditioned person you will also note they ground themselves to take the hit. This allows them to let their conditioning or toughness take the hit.
When you alter the angle of your strike to hit into a Major Void (red zone) then they are not grounded and the force will drive them back into the void taking them off balance.
Their conditioning or toughness may still mean the first blow has not injured them or slowed them down but now they are being taken off balance and this will allow you to follow up with more destructive strikes.
This also means that you cannot let the initiative gained by striking into a major void be lost by hesitation. Following up is essential.
So you must strike out of a blue zone into a red zone.
Visualization
As we conclude it is important to look back at the diagram from the start.
The red sections indicate an easily accessible void.
The blue indicates a less accessible void and a location of a brace.
The idea of visualization is the shifting of red to blue and blue to red.
When you are being pulled or pressed into a red zone you must shift to alter it to a blue zone.
When you are pressing your opponent into a blue zone you must overcome the brace or you must alter their position to shift the blue zone to a red zone.
When you are striking you must be sure your grounding is into a brace or blue zone.
When striking you should angle your strike so that it drives into a red zone of your opponent.
You can combine these into to combination attacks always attacking from strength into weakness.