Hi Mark,
The thumb fist is OK but I personally find that the configuration of the hand and thumb in that position exposes the thumb to, sprain, dislocation, whereas the boshiken of Uechi cradles the thumb in a more secure way and allows for the pointed weapon to be delivered more naturally to the temple in a slapping arc.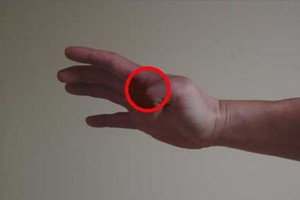 However the boshiken needs to be trained assiduously and conditioned…we like to strike 'Bob's temples with it.
Many beginning students have difficulty even retracting the thumb down against the palm of the hand, where it should be as you strike. The tendons need stretching and reinforcing.
It is also good to keep in mind that the Boshiken, as well as the shoken [pointed weapons] are best delivered to soft tissue targets.
As to the having to face a big burly opponent, yes, confidence is a big factor, and that comes from two things:
1. The knowledge that even if you are smaller and weaker than the opponent, you know you pack the 'wallop' in your techniques that allows you to hurt the opponent, without hurting yourself in the process, i.e., your 'weapon' fracturing upon impact with the body parts of the opponent.
2. That you have developed a 'competition edge' in your training, where you will have fought such opponents in the ring…and used to such 'face offs'
But more important…the having internalized the 'challenge' mentality that comes from competition.
It is like Tony Blauer predicating that when suddenly finding yourself under attack, against an opponent you cannot avoid, instead of feeling fear, feel challenged.
~~
What you see in the video is of course scary, but for the sake of training some defensive moves …here we see ... the assailant placing his left elbow across your chest, then plunge the knife into your belly 'Folsom prison' style, over and over, as it will be in a street attack.
I don't want to remain 'square' to the incoming blade…no matter what linear strikes I could hit him with…I want to get off line, as the lethal force trainers teach.
In our dojo we train against a similar attack by taking off at a 10/11 o'clock angle with our right leg, 'plunging' off line behind the guy's left elbow, with our left arm then coming up in sanchin as we spin behind him, to shove him forward, then strike him from behind at the brain stem while folding one of his legs down to the ground with a stomping kick.