Right on Laird. And developing core strenght and muscle power is inherent to all activities, even more so in any martial arts system, in order for the techniques to work.
As you know, in Uechi, this core strength is developed through sanchin and the various implements, like the 'jars' free weights, etc., as the Okinawans do.
I think we have all seen students not built genetically strong who show up at the dojo looking for the 'holy Grail' overnight, without wanting to put in the time to develop a powerful body, if they don't already have one, to make the techniques work.
At times it might be best to tell the student to look at the 'sporting world' to see how certain athletes train to mate technique to strength.
'Blowing my Horn' a bit_ here is a photo of me after being chosen to be part of a National [rowing] crew when I was 16 years old.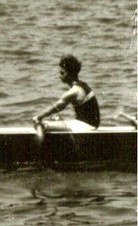 I think that a comparison of the demands of rowing and what goes into making a rower, with what makes a good martial artist_ have a symbiotic relationship from my own personal experience in competitive sports, including soccer.
From my perspective, the things that truly motivated me to return to the water time and time again had more to do with the intangibles, the feelings invoked when I felt graced with a moment of perfect swing, the sound of the boat and puddles moving through the water, a task that demands such precision, body power and dedication that I felt challenged by the unique opportunities of glimpsing all of my strengths and weaknesses and to grow from that.
Our coach was one of international fame, with knowledge of the efficient body mechanics as they relate to the physics of rowing along with common mistakes that are made and their impact on output applied to the boat as a system.
Supplementary strength training with weights was required of our crew as we were trained to explore our limitations in available body range of motion,
how muscular strength improvements would increase potential force output required over an extended period of time, such as in a grueling 2000 meters race.
Our coach's job was one of expanding an understanding of the mental preferences towards rowing and training along with learning ways to expand awareness to transform a mechanical collection of motions into an art form that exemplifies the grace, propelling power and efficiency possible between a body and a rowing shell.