Good thread Henry.
This reminds me of how our Big Clarence was held up by a punk with a gun he shoved into his back while Clarence was opening the front door of his house in Mattapan, then ordered him upstairs into his house.
Inside the kitchen, now the two were at a distance of 6 to 8 feet, the punk pointing the pistol at Clarence.
Clarence told me the next day, he sensed he was about to be shot, so he lunged forward for a disarm.
He did grab the gun, but the punk spun away, gun and all, dove over the kitchen table and from the floor, fired shots at Clarence with the pistol held sideways, gangbanger style, hitting him in the pelvic area three times before the gun jammed.
Maloney and learned gun disarms from Mas Ayoob and John Farnam at the Lethal Force Institute. But were advised not to try them until the very last resort as in the stress of the moment, we would likely mess up and get shot.
I …don't think there are any real answers here, as violence is very unpredictable in a myriad of ways.
Best we can do is to practice awareness and 'foreseeability' [The facility to perceive, know in advance, or reasonably anticipate that damage or injury will probably ensue from acts or omissions.]
Practicing disarms is OK but it may well ingrain an 'operant conditioning' that can get us killed, just like practicing the questionable martial arts techniques.
The best line of thinking here is to be constantly vigilant and anticipate __and always be ready to kill anyone you meet, given the right reasons, one of them being menaced with a weapon.
Example: I live in a idyllic, very peaceful, happy, and picturesque town and neighborhood, with extremely low crime rate.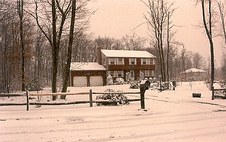 My home here is in a woodsy area and it has a very long driveway where weekly I need to place the trash barrels all the way down to the street in the evening for pick up the next morning.
There are coyotes all around and we have had a pack of them once attack and kill an elderly woman at night, caught alone.
When I take out the trash with a two wheeler I have a .357 magnum revolver close to my hand at all times that I can fire in an instant against man or beast bent on preying.
When I come home at night I wait until I am very close to the garage doors before I press the 'opener' device in my car…anticipating someone in wait in the bushes or around the garage corner...to try and slip into the garage as I pull in to ambush me and invade my home.
As I get out of the car in the garage, I have the .357 in my right hand.
So …always be armed in anticipation of lurking evil. It might save your life.