The stairway entrance to the old house I had seen in a dream. It was very old but solid as a rock in spite of the crumbling caresses of time.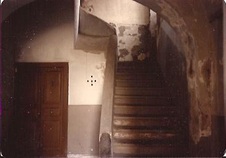 Old but inviting with a door that accessed a hive of all the beauties of the world deep inside that sacred space.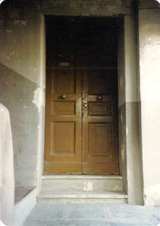 Those stairs led to a surely magic somewhere… because through the huge side windows, light filtered and danced invitingly in a strange darkness with a promise of an enchanted place waiting. The dream in the dream was to live in that house.
Immersed in the depths of the dream, the door heavy and sturdy had opened with a gentle touch of my fingers. An elegant lady all dressed in mourning black with sad eyes behind a black veil, welcomed me with tenderness in the first big room to the left of the long corridor …revealing a secret.
She vanished quickly after as if she had never existed, and I had felt the house had been abandoned for a very long time. But the thoughts of my dream continued to desire that house at any cost, even with that black cat that seemed to have taken the lady's place.
I had walked the long corridor all the way down to the kitchen at the very end, through a playroom and large dining room.
I had fallen in love with a kitchen of carved wood with a foreboding mezzanine. Fantastic sight and such a homey feeling. In the dream it seemed fanciful and that sensation comforts me even now.
Suddenly I realized all my family had lived in that house.
Walking my way back _ there were a series of doors segmenting the corridor corralling big rooms to my right and with big windows on the left out looking on a garden and the railroad station beyond.
I would glance to the rooms without a 'face' as if I did not see them, as if they did not exist.
Then I went out the front door and down the stairs out into the street. People were looking at me knowing I lived there, smiling at my good fortune knowing that that front door was always open for me.
From dream to dream, I had known a thousand faces out that door, down the stairway and into the street, and it seemed that for the major part of the times I already knew well all those people that had accompanied me in the story of that old house.
Maybe they were all the people who had read and keep on reading my diary.
I had read somewhere, maybe in one of the books in my father's library in the house… that dreams are easily generated subconsciously on the basis of our thoughts or happenings in real life, and of secret ancestral gifts.
Maybe this was what the lady in black wanted me to understand in revealing that 'secret' _
And so it is possible that this recurrent magical escapism is something that once having lived it in a life so far away…is indeed an ancestral gift knowing it brings me happiness.
So tonight I pass on this gift to you. I these dreams I live in a world entirely mine, devoid of hurt and sadness, and it isn't said that _moreover, this world could not become magically 'ours'_