CJG: Here is some info my company uses in SD classes:
Criminal Attack Fact Sheet
2/3 of violent attacks occur in darkness or dim light.
Almost 3/4 of predatory criminal attackers are under the influence of drugs, alcohol, or both.
On average, a violent encounter lasts 3 seconds from the first assault clue to the end of the violent contact.
97% of violent attacks take place within 21 feet. 75% happen within 9 feet, and 50% are at arms length.
In almost half of these events, your attacker has a partner.
I believe this was derived form data available at the US Bureau of Justice Statistics.
Regarding OC - pepper spray - courtesy of the USMC I have had the fun of an OC trainng course that included a full face spray. Very unpleasant but we were shown that if determined it will not prevent us from our course of action.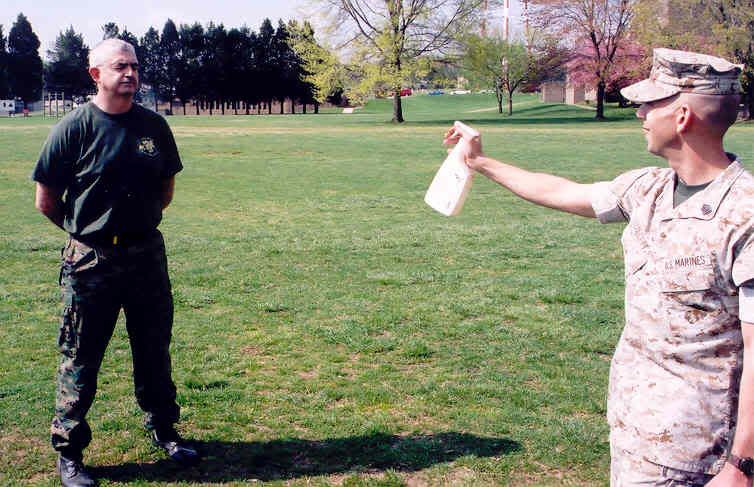 Here is a pic of my classmate Sean about 30 minutes after the spray. Sean suffered horribly but it did not affect him for a couple of minutes. He was fully functional and fighting hard when it had this effect.
This was 50,000 scoville heat unit spray, typical of what the Marines use and my local LEOs. What you will find in MACE is around 10,000 units in a blend with CN tear gas. MACE is ok but does not pack the same punch as higher concentrations of OC.
Bill Glasheen asked to get some experience in OC so back in 10/04 he was the demo for a self defense class. Bill performed very well with an eyefull and the effects are on in the archives for his forum. I suggest you go there and read the October 2004 thread.
I do not have the extensive background Dave has but I do work in this area teaching civlians the proper use of lethal force. #1 is to remember you are allowed to use a proportional amount of force, lethal if necessary, to prevent death or serious bodily harm to innocent human life. The laws read differntly from state to state but in VA killing is not an option. You use the amount of force necessary to stop the threat. Period. If that requires two or more .45 bullets to the center of mass of the perp so be it.
I am also well versed in the USMC 'force continuum' and at the high end of threat levels it does not deal with stopping the threat... more like ending it permanently. As a civilian, if you apply the appropriate level of force to stop a threat and it manages to run away you must allow that to happen as the threat has ended. Fine line yes, but you will have to convince the legal system you did the right thing.
I submit that as a civilian you do not train to kill. You train to stop the threat with the level of force required using your available tools.
Rich